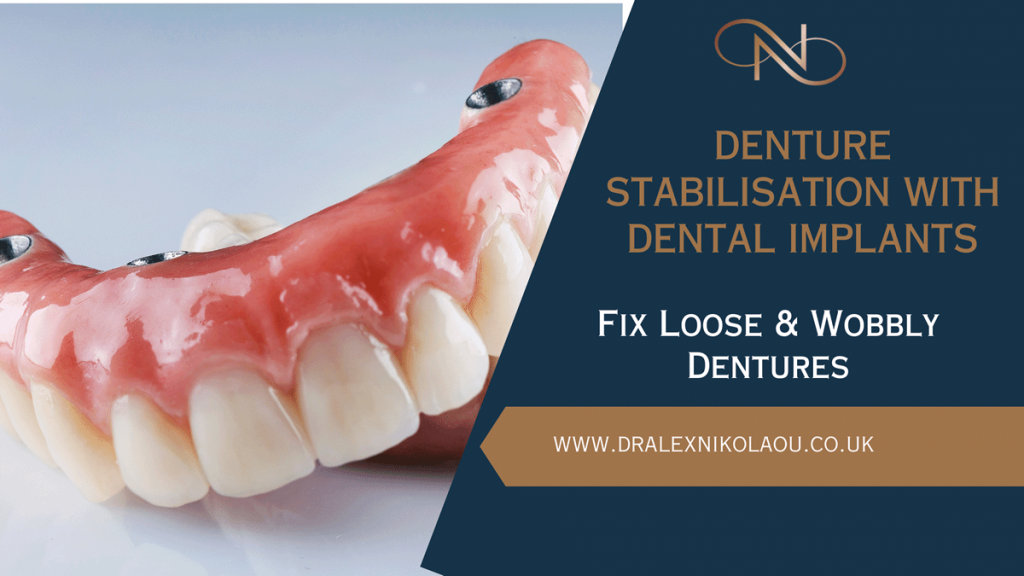 If you are a partial or complete denture wearer, chances are that you are not satisfied with their aesthetics or fit. If yes, then you're not alone; many British denture wearers are unhappy with their dentures and are looking for a more reliable and longer-lasting tooth replacement option. But is there a better tooth replacement option available than dentures? Yes, there is! And it's dental implants.
But how can dental implants make wobbly dentures stable? This blog contains all the information you need to understand why dental implant-supported dentures offer superior comfort, convenience, and durability. So, read on to learn more.
What Are The Common Causes Of Loose Or Wobbly Dentures?
There are various reasons for dentures to become wobbly or unstable:
Continuous Bone Remodelling – when one wears dentures, they exert constant pressure on the underlying bone, leading to excessive bone loss and a change in the shape and contour of the bone tissue on which the denture sits. As a result, dentures tend to become loose over time and frequently require relining or replacement.
Poor Workmanship – ill fitting dentures can also be due to poor workmanship at the dental laboratory or errors while making impressions of the patient's jawbones and teeth at the dentist.
Damage to the Dentures – dentures can become damaged if they are dropped accidentally and may not fit anymore. Furthermore, another reason for loose dentures is if they are boiled in water, leading to their warpage and irreparable changes in their shape and dimensions.
What Is Denture Stabilisation?
Denture stabilisation refers to a process in which loose and wobbly dentures are made stable. This is is done by supporting them with dental implants that are firmly anchored in the jawbone. According to the British Academy of Cosmetic Dentistry, an implant is a cylindrical fixture made of titanium that is inserted into the jawbone. An implant serves as an artificial tooth root and helps stabilise poor fitting and loose dentures.
What Are The Benefits Of Denture Stabilisation?
Denture stabilisation offers various benefits over traditional tooth- and bone-supported dentures. Some of these are:
Improvement in Chewing Efficiency – stabilised dentures significantly improve one's ability to eat normally. As a result, implant-supported dentures will allow you to eat all your favourite foods without any restriction.
Improved Speech – with implant-supported dentures, you don't have to worry about your dentures slipping or creating difficulties for you while speaking. Since these dentures are firmly held in place with implants, they remain fixed and allow you to speak normally.
Natural Looking Smile – with stabilised denturs, you can get a natural-looking and beautiful smile.
Jawbone Conservation – removable dentures can cause significant jawbone loss, leading to unwanted changes in facial bone structure and shape and also increasing the risk of fracture. On the other hand, dental implants don't cause any bone loss and help conserve healthy bone.
What Are Implant Retained Dentures?
An implant-supported denture is a prosthesis that is supported by dental implants, in contrast to traditional dentures that are supported by the oral soft tissues and remaining teeth. Implant-supported dentures have become the most sought-after option for replacing missing teeth worldwide. The best thing about this prosthesis is that you don't need an implant for each missing tooth. Instead, two or more implants may be enough to support a partial denture. 
What Are Implant implant-supported dentures?
As mentioned earlier, an implant-supported prosthesis is a denture that is stabilised and retained using two or more implants. Implant-supported dentures are among the best options for replacing multiple or all teeth in a jaw. If you have a few missing teeth in your mouth, you may consider an implant-supported denture as the most reliable option. On the other hand, if you have lost all your teeth, an all-on-4 prosthesis will be the best option for you.
Denture Stabilisation Cost?
The cost of denture stabilisation depends on the number of missing teeth, the dentist's qualifications and skills, and the need for additional procedures before stabilisation. For example, if there is insufficient jawbone available to anchor the implants, your dentist will perform a bone grafting procedure to restore optimal bone quality and volume. Overall, a single implant may cost you around £1500 – £2500, excluding the cost of the denture. Our dental implant dentist in the North West will give you an estimate of your treatment costs after a thorough clinical examination and treatment planning. 
Denture Stabilisation Near Me
To reap the maximum benefits out of denture stabilisation, one must visit an experienced and qualified dentist. You may find numerous dental practices around you offering unbelievably low dental implant costs, but you should be beware of them. Most of these practices have novice dentists who will do more harm to your oral health and smile than good. Therefore, one must always visit a renwoed and experienced dentist for getting implant dentures.
If you live in Manchester or Chester and looking for the best implant dental centre in town, your best option is Dr. Alex Nikolou's dental implantology practice. The practice boasts a highly qualified and experienced dental team with state-of-the-art dental diagnostic and therapeutic equipment. So, if you want to regain your smile and self-confidence, and your ability to eat and speak normally with implant-supported dentures, request a consultation appointment with us today and take the first step towards your dream smile. We offer a wide range of services to our esteemed patients and look forwards to serving you.