How Much Do Dental Implants Cost?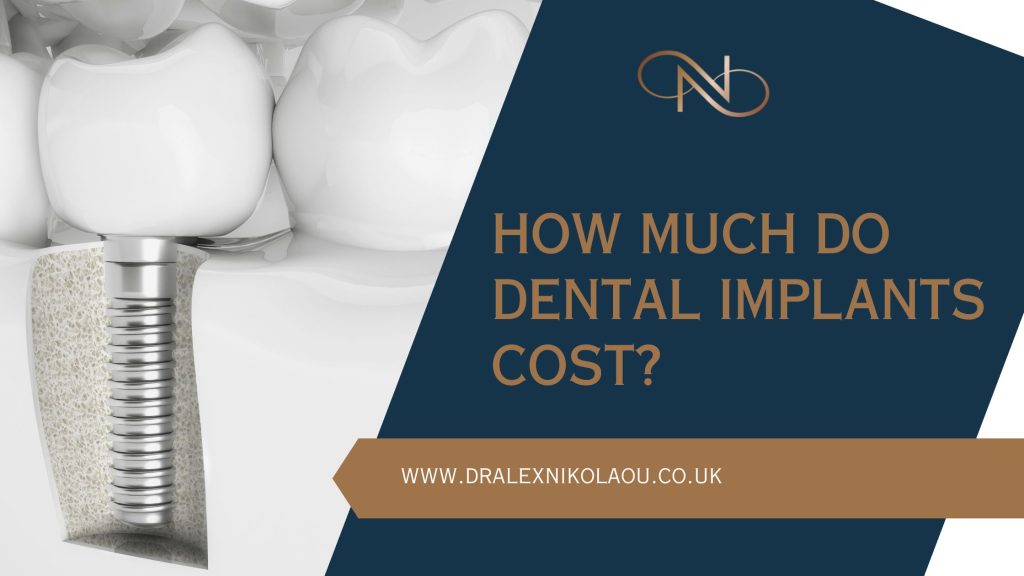 Dental implants are the most sought-after and popular treatment option for replacing missing natural teeth these days. This is due to their several benefits over other tooth replacement options, such as their excellent aesthetics, durability, and restoration of one's ability to eat and speak easily. 
Despite their numerous advantages, one of their disadvantages is their high cost. However, dental implants are not as expensive these days as they used to be. The fact is that with a little search, one can find a good implant dentist who can help them get their teeth replaced at a reasonable cost.
If you are considering getting dental implants but aren't familiar with this treatment option, there is no need to worry; this blog will explain everything you need to know about dental implants. So, read on!
What Are Dental Implants?
A dental implant is a prosthesis fitted into the jawbone. An implant serves as an artificial tooth root and provides a solid foundation for the false teeth attached to it. Dental implants are the most reliable, long-lasting, and aesthetically pleasing tooth replacement options currently available.
What Are The Top Reasons To Choose Dental Implants?
Still not sure if implants are right for you? Here are some dental implants benefits that will help you decide:
Aesthetics – dental implants allow for the attachment of highly aesthetically pleasing zirconia crowns over them that become virtually indistinguishable from the natural teeth.
Durability – carefully looked-after dental implants can last for a lifetime.
Convenience – you can enjoy all your favourite foods with dental implants without restriction.
Improved Oral Hygiene – dental implants require the same oral hygiene care as natural teeth. So, oral hygiene maintenance becomes straightforward.
Bone Loss – unlike removable dentures that cause significant bone loss upon use, dental implants retain the bone tissue level, thereby preventing unwanted changes in one's facial profile and decreasing the risk of spontaneous fracture.
What Are The Types Of Teeth Implants?
Dentists use different types of teeth implants. Two of the commonly used teeth implants are conventional and mini-implants. Traditional implants are cylindrical and longer – to mimic the natural tooth root. On the other hand, a mini-implant is significantly smaller and is used in cases where a conventional implant cannot be placed due to space and vertical height limitations.
Do You Need Healthy Gums For Dental Implants?
When a tooth is lost, its gum tissue and supporting structures are also lost. However, dentists carefully examine the remaining teeth for underlying gum disease as part of the implant treatment process. This is because underlying periodontal disease can negatively affect the anchorage of the implant within the bone and may result in implant failure. Therefore, implant dentists treat underlying gum disease and other dental issues before they begin the implant procedure.
How Much Do Implants Cost?
The cost of dental implants depends on various factors. For example, an implant may cost higher if the dental practice you're considering is situated in a metropolitan area. Furthermore, the cost will be higher if you visit an implant dentist instead of a general dentist. Finally, the price will also vary depending on the severity of the underlying issue, the number of missing teeth, and the need for additional procedures. However, single-tooth replacement with an implant in the UK can cost around £2,000 to £ 2500. You should consult your dentist beforehand to see if they accept your insurance plan or offer flexible payment options.
How Much Is A Full Set Of Teeth Implants?
One of the good things about dental implants is that you don't need an implant for every missing tooth. Instead, dentists can replace all missing teeth in a jaw with only four implants – two in the front and two in the middle. Such a prosthesis is known as an All-on-4 prosthesis. So, replacing a full set of teeth can cost around £10,000 to £25,000 in the UK.
Is It Possible To Do Dental Implants On Every Tooth?
As mentioned earlier, there is no need to get an implant for every single missing tooth. An implant can be used to support one or two missing teeth. Similarly, as many as four missing teeth can be replaced with only two implants. Finally, an All-on-4 is the best option for replacing all the missing teeth in a jaw. So no, you don't need an implant for each missing tooth.
How Do I Decide Where To Go For Dental Implants?
When considering dental implants, the most crucial factor is to decide where to get them fitted. With so many dental practices offering implant therapy at unbelievably low costs, choosing the best dental practice in the area becomes challenging.
But there is no need to worry; we will help you. One must consider a few things when looking for the best implant dentist. First, you should visit a renowned and experienced implant dentist. Secondly, you should choose a practice near your home or workplace. You should choose a dental practice that accepts your insurance plan or offers a flexible payment system. Finally, you should select a dental practice with a gentle-dental, friendly team and one you feel most comfortable with.
If you are looking for the best implant dentist in Liverpool + Manchester, Dr Alex Nikolaou's practices should be your foremost choice. Why? Because they offer state-of-the-art treatment in a relaxing environment and affordable rates. So, what are you waiting for? Book an appointment with Alex Nikolaou now and take the first step towards your dream smile.